Carpet Laying Tips Auckland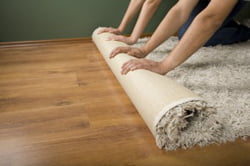 When arranging your carpet installation, it's essential to ask for a fully itemised quote. Most quotes from retailers will include underlay and carpet installation. Carpeting your floors is one way to save money and be cost-effective.
Not only it is a quick way to add value to your home, but it can also freshen up your room and give it a total makeover, especially if you are looking at putting your house on the market or buying a new home.
Have your carpet laid by the company that you bought it from, as this will usually be cheaper, and it keeps things more straightforward. Ask your retailer for a carpet installation plan and check for the placement of cross-joins and seams in the carpet. If possible, the joins should be away from windows where falling light could show them. They also shouldn't be in high-traffic walkways such as corridors and doorways.
To prepare a room for a new carpet, vacuum the old one to minimise the spread of airborne dust particles when taken up. Once the old rug and underlay have removed, re-vacuum the floor.
Professional Carpet Laying Auckland
The most important thing is to find the carpet fast and get it professionally installed as quickly as possible. Maybe you are a property manager that needs to replace the carpet as soon as possible to get a new renter in.
Due to burst pipes, you damaged the carpet in your office in some scenarios, and you have clients coming in. Call the Experts Steam 'n' Dry Auckland Carpet Cleaning service. Over 33 years of servicing South Auckland, North Shore, East, West Auckland, and Hibiscus Coast.
Carpet Installation Process
Inspect the carpet and ensure installers stretch it to minimise wrinkles and ripples properly. It's normal for the rug to shed in the first few weeks or months of use, and you may see tiny fibres collect on its surface. As the carpet beds down, this should stop.
Vacuum the new carpet to get rid of any loose fibres. Once you've got your underlay down, ensure you trim away the edge of a woven rug so that it will not fray or unravel as recommended by the manufacturer – this is usually about 2 cm from the hem (if necessary).
It can be worth buying new carpet or keeping offcuts if you need to replace worn carpet in high-traffic areas, such as stairs, in the future.
Carpet Laying Auckland Service
Call the Experts Steam 'n' Dry Auckland Carpet Cleaning service. Over 33 years of servicing South Auckland Central City CBD, North Shore, East, West Auckland, and Hibiscus Coast on 0800 783-266.
☑ Carpet Repairs and Laying
☑ Water Damaged Flooded Carpet Drying
New Carpets and Air Pollutants
In fact, for the first few days after installation, all new carpets emit volatile organic compounds (VOCs), air pollutants associated with manufacture. These omissions are generally at a deficient level, and scientific evidence indicates they are probably not harmful to most.
We employ a highly trained professional service staff. The Carpet Care upholstery cleaning process will have your upholstery sparkling clean and dry and ready for use in just a few hours.
We use less water and leaves less moisture behind than any other process, minimising drying time and reducing the chance of mould, mildew, and bacteria growth.
After the installation opens the windows and doors or uses fans and air conditioners for several days, this will also eliminate the new carpet smell.
Reviews About Steam 'n' Dry
Auckland Central Google Reviews
Contact Us
For help, phone the professionals at Steam 'n' Dry Auckland Carpet Cleaners Over three decades, located in West Auckland, East, South Auckland North Shore, Hibiscus Coast, on 0800 783-266.
📞Auckland Central   09 3767007                        📞East Auckland        09 520 0062
📞North Shore         09 489 7784                        📞South Auckland     09 262 0720
📞West Auckland      09 8374545                        📞Hibiscus Coast       09 426 5008
BY GRAEME STEPHENS · PUBLISHED 17/12/2014. UPDATED 04/05/2021.