Carpet Underlay Padding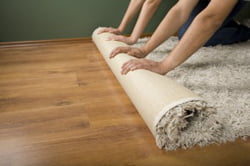 Although carpet underlay padding is mostly out of sight and out of mind, it is the unsung hero of any carpet install. The right carpet underlay protects your carpet from wear and adds unmatched comfort to any room. It acts as insulation and can even extend warranties.
The underlay absorbs the damage of heavy foot traffic, as a result, protects the underside of your carpet from abrasion against the subfloor. Also, it helps to insulate your home against cold and noise and makes your carpet feel softer and more vibrant. However, there are quite a few different carpet padding types, and you must choose the right underlay for your rug. In particular, common materials used include rubber, urethane, felt, and memory foam and various combinations of these materials.
Carpet underlay is usually a foam underlay specifically designed for installation under the broadloom carpet. It serves several uses such as insulation, acoustics, support, and comfort. Most carpet underlay is from polyurethane foam – the same stuff in furniture, mattresses, and even car seats. This foam offers support to your carpet, allowing it to last longer in your home.
Types of Carpet Underlay 
There are many different types of carpet underlay available today to accommodate all the various carpet types and styles. But before you choose, firstly, you need to know a few things about what makes one carpet underlay better than another. The quality is always determined by the materials used to manufacture it, the density rating and thickness. Every carpet manufacturer requires a specific type, consistency, and density of carpet underlay to maintain your carpet warranty. For most residential carpets, a 7/16″ width is most common.
Carpet underlay is the foundation of a carpet. It is essential to have the proper selection of your carpet's padding since this is part of your home. You need to understand that there are five types of carpet underlay:
Rebond
Foam
Rubber or Slab Flat
Wool or Fibre
Rebond Underlay Padding
This type of carpet underlay padding is most common in the residential setting. Rebonded underlay is available everywhere. It does a good job supporting your carpet and in reasonably priced. It is the most economical choice for your home, rental or office. 2-4 kg density is typical, although I prefer at least 3kg of carpet underlay density for residential homes and especially on stairs. 8 pound gives excellent support for households with active kids too.
Foam Carpet Underlay
This type of carpet is, in fact, often very inexpensive and lightweight. If a retail store tries to give you free underlay with your carpet purchase, this is what they plan to provide you wit. However, this type of carpet underlay will not tolerate much traffic.
Rubber Underlay Waffle or slab flat
We seldom recommend using a rubber waffle underlay in residential houses. Rebond carpet underlay is a much more economical choice, and it does a great job at supporting your carpet as long as the correct thickness and density ar selected.  Rubber slab underlay id used in commercial applications over concrete. Although, waffle rubber carpet padding saw it's height of popularity in the 1970s and 1980s. This style of carpet pad consists of spongy material shaped like a waffle on its surface. The main selling point for waffle rubber is its softness underfoot. The sponge rubber is likewise sensitive to heat and can easily damage by dry cleaning solvents. Concerning foam rubber, they are insect-proof, mildew proof and non-allergenic.
Wool or Fibre Underlay Padding
These types of natural wool or synthetic underlay are used primarily for Berbers and commercial carpets. They are very dense, breath well and are not spongy at all. They are from recycled or shredded fabrics or natural wool. 
Although carpet underlay is mostly out of sight and out of mind, it is undoubtedly the unsung hero of any carpet install. The right carpet underlay protects your carpet from wear, Adds comfort to any room, acts as insulation and can even extend warranties. Steam 'n' Dry also stocks many inexpensive underlay such as foam chip, rubber woof or slab, wool, jute has purpose types. Our experts at Steam 'n' Dry Auckland
Carpet laying & repairs
service is equipped with carpet underlay and moisture barriers that prevent spills from reaching the subfloor.
Contact Us

☎

Call the Experts Steam 'n' Dry Auckland Carpet Cleaning service. 1988.  South Auckland Central City CBD, North Shore, East, West Auckland, and Hibiscus Coast on 0800 783-266.

📞Auckland Central   09 3767007                  📞East Auckland        09 520 0062

📞North Shore         09 489 7784                   📞South Auckland     09 262 0720

📞West Auckland      09 8374545                  📞Hibiscus Coast       09 426 5008

BY GRAEME STEPHENS. PUBLISHED 17/12/2014. UPDATED 08/03/2021